ShowMeta November Mystery Boxes Giveaway: Win Exciting NFTs
Play, Create and Socialize-All-in-One Place
Web3.0 games and metaverse are one of the hottest trends in the crypto industry, evolving at a rapid pace. As of the beginning of 2022, the market capitalization of the Web3.0 gaming sector was around $25 billion, and it is expected to hit $350 billion by 2027. According to Triple A's data, over 48% of digital currency owners wish to use their currencies for gaming in the future. Similarly, the metaverse has blown the crypto industry while providing virtual shared space where users can interact, play, shop and work, sitting comfortably on their couches in the real world. The global metaverse market is expected to surge to $678.80 billion by 2030. With the soaring popularity, promising gameplay, and lucrative incentive economics of these sectors, many exciting new projects are coming into the market.
ShowMeta is one such project that provides web3.0 games and a metaverse experience in one place.
ShowMeta: All-in-One Platform for Metaverse and GameFi Experiences
In the traditional gaming sector, players are not the actual owner of the in-game assets despite spending hours and hours to collect them, but the game operators. To address this problem and bring ownership back to players, the web3.0 gaming industry jumped in.
ShowMeta is a web3.0-based gaming platform where players can play their favorite web3.0 games and metaverse while interacting with other players in one place. Unlike traditional gaming sectors where in-game assets cannot be used in other gaming projects, ShowMeta enables players to earn in-game assets, NFTs. Players can easily create these NFTs and earn cryptos, ultimately providing them control over their in-game experience and assets. Moreover, they can also participate in making decisions for the platform's development.
On ShowMeta, players do not have to make any upfront investment to start playing the games. Later on, users will be able to mint free NFTs, buy premium NFTs and unlock more features in web3 space.
In a nutshell, ShowMeta is a steam of web3.0 that provides a single unifying platform to find and play blockchain-based games of different genres while connecting with friends.
ShowMeta is More Like a Paradise for Game Developers
ShowMeta gives freedom to developers by providing them full access to all web3.0 features for creating and running their own metaverse and blockchain games, including a mobile wallet, an NFT marketplace, and many other tools. They can create blockchain games that overcome the usual difficulty associated with developing such games by using our highly intuitive user interface for developers.
It is an open platform for developers to easily add their games supporting game engine development such as UE5, Unity and Cocos. They also support developers by providing experts to help them with the in-game token economy.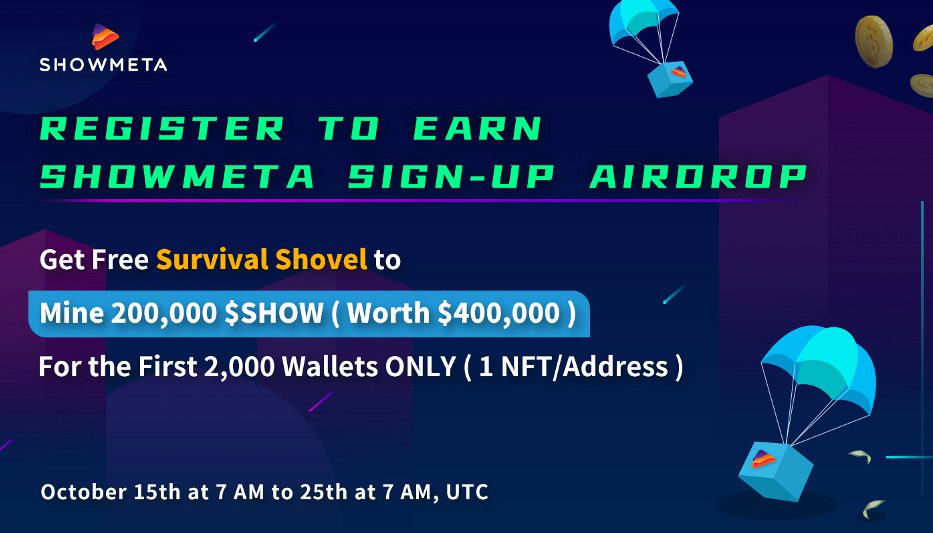 ShowMeta Held a Successful Sign-Up Airdrop Campaign in October 2022
ShowMeta came live in Q3 2022. To create awareness and attract more users, ShowMeta launched various campaigns, such as the ShowMeta Sign-up Airdrop Campaign.
In the Sign-up Airdrop Campaign, users could mine and win 200,000 $SHOW tokens worth $400,000. To be eligible for this campaign, users had to sign-up on the official website and link BSC Testnet wallet address. The prizes were to be distributed among the first 2,000 registered users from the 15th to the 25th of October.
People around the globe showed great interest in the project, and the campaign ended with over 36,000 registered addresses. The surprising enthusiasm shown by everyone made this campaign a great success. Keeping up the promise, the list of winners was shared immediately.
ShowMeta November Mystery Boxes Giveaway: Win Exciting NFTs
On November 2, 2022, ShowMeta announced a big surprise with a spoiler alert of an NFT giveaway.
So, they are launching a Mystery Boxes Giveaway in November starting from 7th till 12th November 2022. For all those users who could not get prizes in previous campaigns, now is your chance.
Through this mystery boxes giveaway, users can win SSR, SR or Survival Shovel NFTs. Each mystery box may contain a $10,000 SSR Hero NFT, a $1,000 SR Hero NFT, or a $100 Survival Shovel NFT.
To participate in the giveaway, each registered user has to invite other users to get registered on the platform. The more users you invite, the higher the probability of winning mystery boxes. For each successfully registered invite, you will get one mystery box.
Sign-up now and invite your friends to win up to 3 mystery boxes through the November Mystery Boxes Giveaway.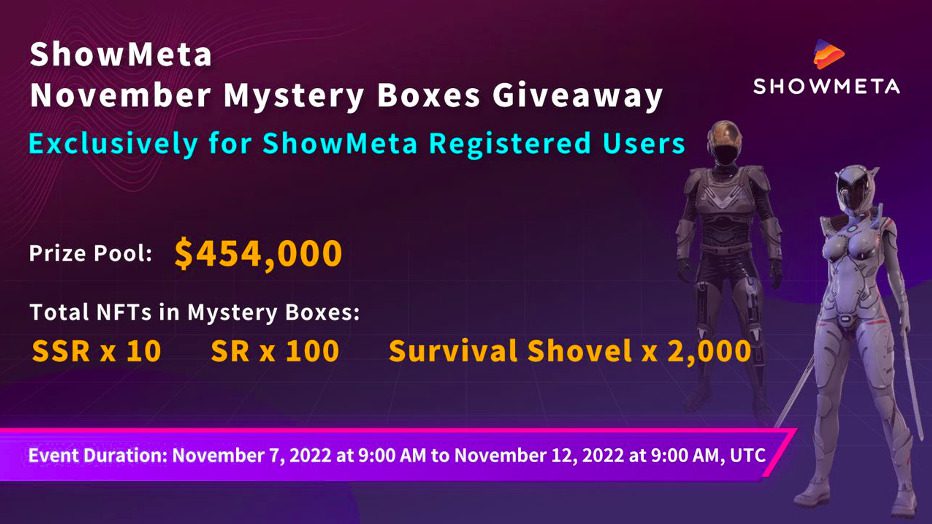 ShowMeta is Determined to Create a Promising Future for its Users
ShowMeta is in its initial phases, but their team of highly experienced members is working day and night for the successful progress of the project. The project has already been successful in catching the attention of web3.0 gamers, metaverse users and developers through its amazing features.
The team is highly interactive with the community through various social media platforms. Recently, they have launched various campaigns, including October Grand Giveaway, Sign-up Airdrop and Halloween Giveaway.
ShowMeta is here to stay with its exciting plans for the future. By the end of 2022, they will get it listed on DEX. In 2023, the team will be working on ShowMeta 2.0 to increase user opportunities. They will expand beyond console and mobile while introducing AR and VR compatibility.
Web3.0 games and metaverse will have ever-increasing users in the upcoming years; ShowMeta is also determined to make its place with a bright future in this robust space.
People from all over the world are appreciating the ShowMeta project and showing their interest in it. They will continue working on the progress of ShowMeta to keep up with the expectations of the ever-growing community.
Sign-up Now for Free to play your favorite web3.0 games and metaverse with a seamless onboarding experience and earn NFTs & cryptos.
Website | Twitter | Medium | Telegram | Discord | Reddit | Linktree